Community far and wide rally to protect local family. Prestigious Heritage Golf and Country Club based in Victoria Australia, Wildlife rescuers, Procull, Chinese tycoons, International sales executive for vegan based care products and a mob of kangaroos bring about community backlash far and wide.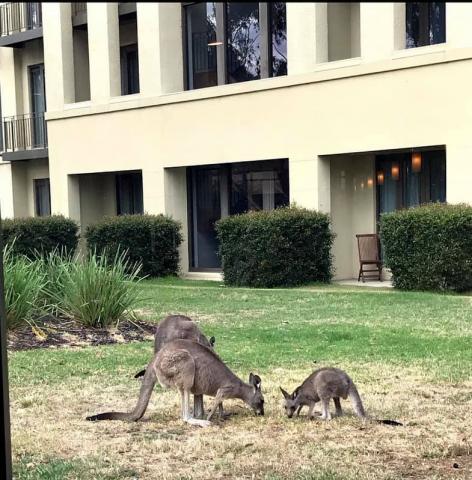 Brooklyn, United States - May 8, 2021 /PressCable/ —
Community rallies to save local Kangaroo mob from a last minute contract to slaughter them for pet food. The beloved mob who call the area home were destined for a night time shoot, when residents were issued an eleventh hour notice to "stay indoors" for their own safety as the roo mob were to be culled between 9pm and 3am.
The swift reaction by residents, wildlife carers and the general population, both local and from afar saw the Police attend twice in the evening, to halt the contract (awarded to Procull) culling amid concerns in relation to residents and personal safety.
The Melbourne metros' once prestigious Heritage Golf and Country Club which is flanked by National parks, boasts kangaroos on fairways and nature as a contributing factor to player and spa appeal and one of the reasons residents state for purchasing townhouses at the country club.
The Heritage Golf and Country Club has been mired by controversy since its purchase by one of China's infamous tuhao in 2014. Supreme court proceedings relating to cash sums being deposited into the China Bank for property deals, insolvency actions relating to withholding payments, pay disputes, staff sackings, member revolts, threatened removal of trademark names due to the clubs condition and poorly maintained facilities now the latest contract to slaughter the saved kangaroo mob for pet food.
The new appointment of General Manager Andrew Kenny to the club in Feb 2021 sees an unlikely match. Mr Kenny is listed as the Director of International Business for an Australian beauty company. The family business located on the Sunshine Coast in Queensland, creates among its natural products a Vegan cosmetic range.
In the mail sent to property owners on April 27 it was advised that Mr Kenny, arranged and authorized the slaughter of the beloved local mob and notified the residents via correspondence to lot owners which stated the manager had engaged the professional Procull Solutions to attend the complex to carry out the slaughter. The notice also advised that a single date may not be able to slaughter enough of the mob and other dates may be required and that residents should not be out after dark whilst the shooting takes place.
Members of the Pelican Waters Club on the Sunshine Coast where Mr Kenny was previously the manager, advised that in the four years Mr Kenny was manager, there were also questions about the number of kangaroos that went missing without explanation.
Outraged residents, who purchased homes and live at the Heritage country club, say they feel powerless and horrified their peaceful coexistence has been placed in such jeopardy. Residents reached out to MPs and wildlife carers who have on a number of previous occasions attended when the Club staff sought help for injured roos, including one known as Scarface in 2019. The large male was attended to by Five Freedoms Animal Rescue which spent hundreds of dollars and countless hours to rehabilitate and return the much loved alpha male to his home.
The residents plea for help to stop the slaughter was seen on social media and resulted in swift and decisive community reaction.
During the horrendous wildfires that raged for months on end in Australia, the world dug deep and donated millions of dollars to help rescuers save whatever wildlife they could. So it is unsurprising that a lot of people around the globe feel they have a vested interest in things that affect Australian wildlife.
There is a plea to ceas the Heritage Golf clubs action https://www.change.org/p/heritage-golf-country-club-heritage-golf-country-club-don-t-kill-beloved-local-kangas-for-pet-food?
Australia's controversial wildlife protection has been called into question a number of times, with each State having its own jurisdiction over management of wildlife within their respective States. Australia leads the globe in animal extinction rates, with 12 of the 73 species of Macropods (the kangaroo families) now extinct.
Additional pressure from the meat, greyhound and shooting sector to attempt to use the macropods as a source of hide, skin and food for consumption, both pet and human, to bolster a livelihood.
The Government has bowed to the lobby to an extent, allowing protected Macropods to be slaughtered by altering language and license to harm, tag systems and a range of other measures depending on which State.
In a confused game of "not me its them" policies, a definitive response from the Victorian authorities has not yet been forthcoming:
(DEWLP) The Department of Environment, Land, Water and Planning who manage the hunting of pest species – no Macropods are listed.
(GMA) The Game Management Authority, Macropods are not considered game as they are native and not introduced or pest species. The Victorian hunting maps do not show this area as permitted to hunt on public land.
(ACW) – Authority to Control Wildlife, no license issued for this slaughter. (DJRP) – Dept Jobs Regions and Precincts coordinate with GMA.
(KHP) – Kangaroo Harvest Program. While kangaroos are protected wildlife, the lobby has seen this program adopted as a means to control damage to the economy ie stock and fence damage This KHP program circumvents all previous checks and balances and is a no cost to land owner process, the licensed shooter sells on the slaughtered roos for a fee to human or pet food processors and is controlled by the GMA.
The harvest zone maps appear to exclude this Metro area however to date, the GMA has neither confirmed nor denied via any response.
The shooters lobby have done a lot of work and succeeded in changing language to soften the public perception of the industry. Gov documents now refer to "harvesting" kangaroos, which involves licensed shooters (depending on State regulations) slaughtering mobs where they live.
Contrary to language, kangaroos cannot be farmed and are all wild culled, the legislation also requires in-pouch and at-foot joeys to be slaughtered by a blow to the head, often conducted against the bullbar of the vehicle or by standing on them, so the surviving young don't starve to death.
The Club management have not responded to date.
Contact Info:
Name: Manager
Email: Send Email
Organization: SYSL Media
Address: 1040 Metropolitan Avenue, Brooklyn, New York 11211, United States
Website: https://sysl.media/advertising/
Source: PressCable
Release ID: 89010395